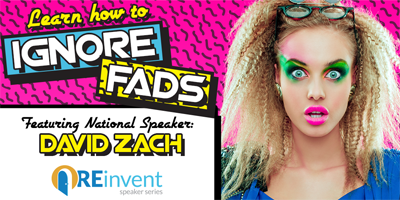 In our age of information, what you focus on becomes what you are!
Learn how to protect and direct your most valuable resource – YOUR ATTENTION – with renowned keynote speaker David Zach. During this interactive and humorous presentation titled "Fads, Trends and Principles," David will teach you how to identify the strategic and tactical difference between each so you can:
Better understand and use knowledge of current and future tends and traditions;
Learn how to play with fads without getting too distracted;
Identify and live by principles;
AND learn how to pay attention to what matters most to you.
REinvent Speaker Series: "Fads, Trends and Principles"
Wednesday, September 9th
from 8:30 am to 11:00 pm at the Crowne Plaza Albuquerque
1901 University Boulevard Northeast | Albuquerque, NM 87102

Event Schedule
8:30 am - 9:00 am
Networking

9:00 am - 11:00 am
Breakfast Served / Feature Presentation
As a member benefit, we are offering you and your clients complimentary tickets to our first REinvent Speaker Series presentation. Click here to reserve your seats today!
Silver Event Sponsors
Right Start Mortgage
Ida Kelly REALTORS®
Cornerstone Home Lending
RE/MAX
EXIT Realty