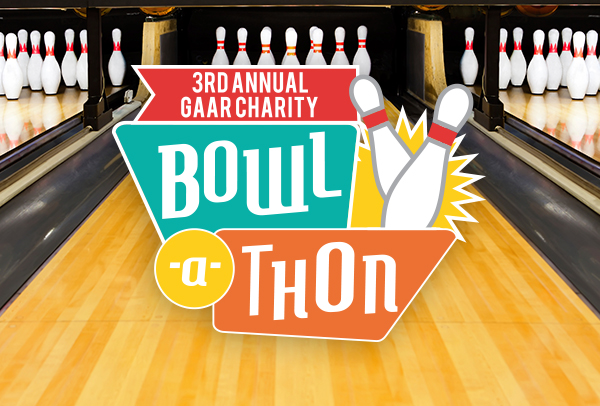 Saturday, August 29, 2015
We are pleased to announce that the 3rd Annual GAAR Charity Bowl-A-Thon will be held on August 29th at Skidmore's Holiday Bowl.
In only three short years, the Charity Bowl-A-Thon has grown to be one of GAAR's biggest fundraising events. Proceeds from the event directly benefit The REALTOR® Fund, an endowment established by GAAR to provide a permanently sustainable fund to aid in creating adequate housing, building functioning cities, developing productive industries, and preserving a healthful environment in Bernalillo, Valencia, Sandoval, and Torrance Counties, New Mexico.
At last year's Charity Bowl-A-Thon, a total of $8,747 was raised for The REALTOR® Fund and donated to the APS Title 1 Project – a project that offers many services to over 5,000 homeless children in the Albuquerque area, including: enrollment assistance, school supplies, school uniforms, and after school tutoring programs.
This year, in an effort to continue improving the lives of our community, the goal of the GAAR Charity Bowl-A-Thon is to raise $10,000 to benefit local charities that impact troubled youth and their families in the greater Albuquerque area.
Registration for the 3rd Annual GAAR Charity Bowl-A-Thon is set to open on July 8th. Three session times will be available: 2:30 pm, 5:30 pm, and a special "Glow in the Dark" session at 9:30 pm. For more information or if you have questions, contact Dana Earl at 505-724-3477 or at bowl@gaar.com.
Special Thanks
Thank you to the bowlers, sponsors, and volunteers of last year's Charity Bowl-A-Thon for your generous support and contribution to The REALTOR® Fund.
Click here to view photos from GAAR's 2nd Annual Charity Bowl-A-Thon.
2014 GAAR Charity Bowl-A-Thon Sponsors
Coldwell Banker Legacy
Fidelity National Title
First Mortgage Company
Keller Williams Realty
Legacy Mortgage
Pulte Homes
Superior Mortgage Services
Interested in joining this year's Sponsor League? Click here to download the Sponsorship Opportunities form for more information.
****
Related links
It's Time to Get Your Team Set for GAAR's 3rd Annual Charity Bowl-A-Thon
The REALTOR® Fund: Give Back to the Community...and Possibly Win a Trip for 2