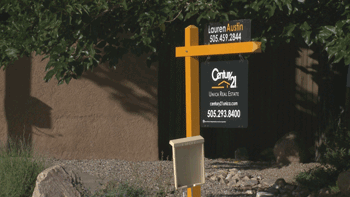 By Adam Atchison, Morning Anchor at Channel 13 News
ALBUQUERQUE (KRQE) — New Mexico's housing market is looking up. Real estate experts say home prices are the best they've been in years, rebounding closer to what they were before the 2008 recession. That could be good news for your investment.
Sam Keller and his wife Karen are hoping they're going to find the right home in the improving market. They're looking to downsize, but stay in Albuquerque.
"We like Albuquerque. It's home to us," said Sam Keller. "When we bought our last house, the market was much better. It has been at the bottom (and) it's started back up, so therefore, we're on the right end of buying now."
Steve Anaya, the C.E.O. of the New Mexico Realtors Association, sees a lot of potential in the housing market.
"This is probably the strongest summer we've seen since 2008," Anaya said.
Statewide, 18 counties report an increase in the number of homes sold so far this year, compared to last.
Median home prices are climbing closer to where we were in 2008 in Albuquerque. Back then, the median, single-family home price was an $199,000 in the second quarter of 2008. In the same time period in 2015, which includes June, it's $184,000 in the metro area. Compare that to $177,000 during the same time in 2014 and $165,000 in 2011 after the economy went south. Click here to read the full article