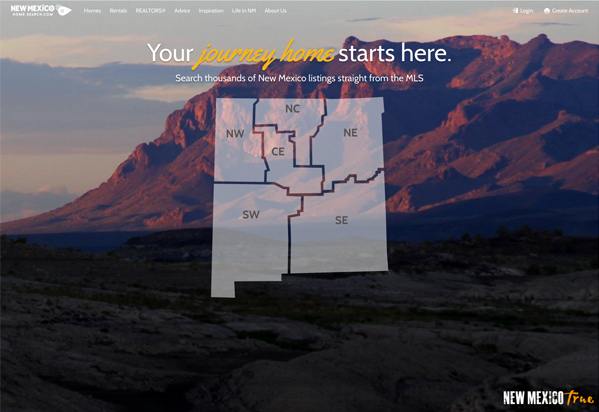 Your association consumer site, NewMexicoHomeSearch.com, is getting a lot of attention.
In addition to new partnerships with Taos County Association of REALTORS®, Roswell Association of REALTORS® and the Commercial Association of REALTORS® NM (CARNM), the new site receives about 20,000 visitors a month.
While the home listings are the driving force for NewMexicoHomeSearch.com (NMHS), the content is valuable in marketing the REALTOR® brand, educating home buying/selling/renting consumers and attracting new residents to the state. We also have an agreement with ABQ Journal to use the content in HomeStyle.
While developing the site, we wanted ensure that the content was a valuable marketing tool for individual REALTORS® as well. Because the content comes from multiple sources, here are a few simple rules you need to know:
Use the correct attribution and copyright information.

When reprinting articles, include the writer, source, links, bios, etc. The articles come from multiple sources, each has their own attribution requirements. For example, HouseLogic content must have "Visit HouseLogic.com for more articles like this. Reprinted from HouseLogic.com with permission of the NATIONAL ASSOCIATION OF REALTORS®." at the end of each article with a link to HouseLogic.

The editors at NewMexicoHomeSearch.com have the correct attribution in each article. If you copy everything, including attribution, you should be good to go.

Use the full article copy.

You can add a personal note or update at the end of the article, but please do revise the articles copy. Add your personal attribution for the note or update so readers do not think the note is coming from the original author.

Photo Use Policy

Most photos on the content portion of the website are from Getty Images and are licensed only for use by GAAR/NMHS. If the photo is not stock photography and has the rights released for your use, it will be noted in the article.
If you have any questions about using or submitting content to NewMexicoHomeSearch.com, please email Eva Medcroft at eva@gaar.com.
New Articles from NMHS:

6 Reasons To Reduce Your Home Price: By G.M. Filisko, Contributor | HouseLogic - While you'd like to get the best price for your home, consider our six reasons to reduce your home price. Home not selling? That could happen for a number of reasons you can't control...Click here to read the full article.

How to Pick Paint Colors: By Jan Soults Walker | HouseLogic - Paint has remodeling power when you use it to emphasize a room's best features or play down the flaws. Every home suffers a few negatives, but not every solution requires pricey structural changes...Click here to read the full article.

Extend the Outdoor Living Season: By Jan Soults Walker | HouseLogic -Make an outdoor living area comfy long after the sun sets or the leaves turn with outdoor lighting, a patio heater, and a glowing firepit or portable fireplace...Click here to read the full article.