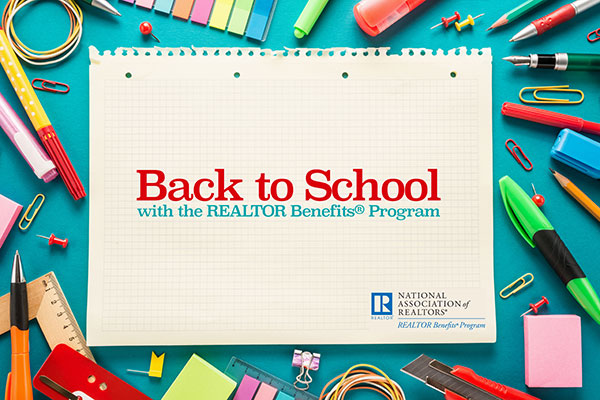 (Source: REALTOR.org)
Take advantage of exclusive savings for REALTORS® on every day products and services, and apply them to your personal life, too.
Make the transition during the busy Back to School season a little less bitter and a little sweeter. Save with great deals on all of your Back to School supply needs from OfficeMax, plus, take advantage of exclusive NAR discounts on the latest notebooks, laptops, tablets, multifunction printers, wireless service plans, accessories, and more from industry leaders in technology such as Dell, Lenovo, Sprint, and Xerox. You can also revamp your education this Back To School season with designation and certification discounts. With the REALTOR Benefits® Program, you can get everything your student needs for every age level, from little ones hopping on the school bus for the first time to college students journeying on their own for their first semester.
Gear for the Office and the Classroom
Not only does OfficeMax offer discounted pricing on products that keep your business running smoothly during the second busiest time of year*, but these great deals can be used to help kick off the 2015 school year for less, too. Check off items on the school supplies list for the student in your life and save while you're at it on over 25,000 discounted items from OfficeMax.
NOTE: This program requires you to register before you shop in order to verify your NAR membership. Be sure to register for your OfficeMax Digital Retail Connect Card to begin using the savings the program offers for whatever you need, whenever you need it, online and in retail stores.
The Latest Technology for the Upcoming School Year
REALTOR Benefits® Program technology partners have the deals you need on the latest electronics and accessories to help you take your business to the next level and stay in-tune with the ever-changing technology space. Getting ready to make a big technology purchase for your student? Help them start the school year on the right track with a tablet, laptop, PC, multifunction printer, or great new wireless service plan, at discounted prices. You can save up to 40% off on select electronics and accessories from partners Dell, Lenovo, Xerox, and Sprint.
Remind Them You Care (and Send Their Favorites They Forgot)
For the students that have left the nest for the first time, remind them of home with a care package to make them feel special. Plus, there's bound to be a thing or two that got lost in the shuffle, too. With shipping solutions from FedEx, you can save up to 26% to ship packages domestically and internationally.

NOTE: This program requires you to enroll before you ship in order to verify your NAR membership. Make sure to go to fedex.com/narsavings or call 1-866-869-1171 to enroll and mention passcode LCRS8p01.
Refresh Your Real Estate Education
Back to school time is also a great opportunity to enhance your skills within the real estate industry and start the fall season off. As an NAR Member, you can receive 10% off the cost of select online designation and certification courses, including the ABR® Designation, e-PRO® Certification, Green Designation, SFR Certification, and SRES® Designation.
Original Article: http://www.realtor.org/programs/realtor-benefits-program/back-to-school-savings-with-the-realtor-benefits-program