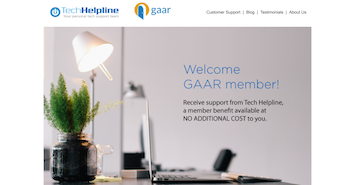 U.S.-Based, Tech Support For GAAR Members
You are part of a community of more than 500,000 REALTORS® that trusts Tech Helpline for advice and help resolving challenges with office and personal technology devices. Because we are an exclusive service for REALTORS®, we are familiar with your issues and can help you....
Maximize Your Time
No one can afford to have long, system downtime. Reach out to us with your hardware, software, networking and digital devices issues; we will troubleshoot your problems and offer solutions. We can also help you set up and install your software or hardware.
Optimize Productivity
We'll assist you in setting up your computer for optimized performance, help you minimize Virus, Spyware and Malware threats and optimize the security of your devices. We can also advise you on hardware and software purchases.
Reduce Costs
Before going to an expensive, computer repair vendor, give us a call. Tech Helpline service comes at no additional cost to you because it is included in your Greater Albuquerque Association of REALTORS® membership.
Slow Computer? Printing Issues? Browser headaches? Smartphone questions?
Tech Helpline has you covered as a benefit of your GAAR membership – with no additional cost to you.
Click here for Tech Helpline's website dedicated to GAAR Members.