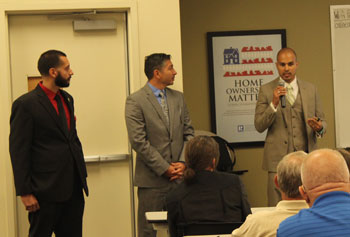 For our special Member Forum, the LEAP Committee brought in experts from the Bernalillo County Assessor's office to discuss how they assess property tas, improvements the office has made, PIDs and more.
Damien Lara, BERNCO Deputy Assessor, introduced the latest legislation to impact residential assessment, including update to special tax savings programs. Residential Apprasial Manager Fabian Montoya disucessed the appraisal process and how to appeal an value assessment and Special Projects Coordinator discussed ongoing and upcoming changes to their website and electronic services. The presentation was followed by an in-depth Q&A.
The Assessor's Office was followed by GAAR's Jeff Bratton who presented how to access and use PID information on gaar.com and where to find tax information through CRSdata. He also announced improvements to Flexmls – which will include PID overlays.
Changes to both the BERNCO Assessor's site and Flexmls should be complete within the next 30 days and will be announced upon completion.
Below are the presentation files for you to download:
Bernallilo County Assessor's Office Presentation