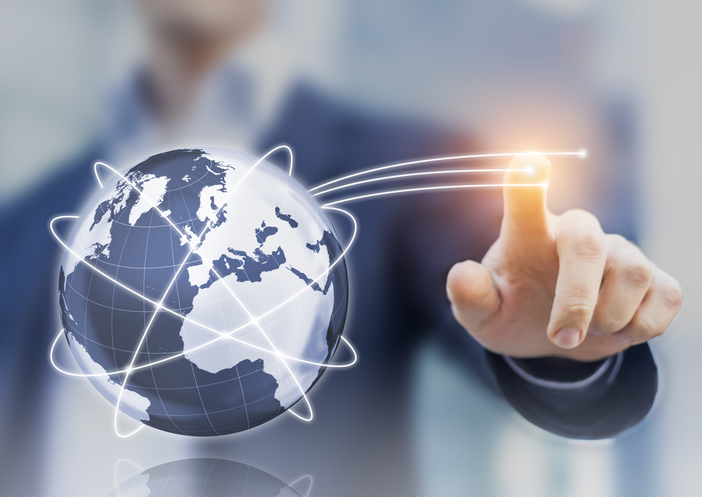 This article contains tips and instructions on how to effectively market your SWMLS listings that are For Sale in the MLS. SWMLS listings that are enabled for public display can reach thousand's of websites. One section of the Listing input form called Broker Distribution contains several options that can control where your listings appear online. A separate MLS product called ListHub allows your QB to control where your brokerage office listings appear online.
The Listing Distribution options, ListHub, and the seller's decision on where to market online, are three ingredients to effectively market your MLS listings online.
Homework? What?
This article focuses only on tips and instructions to market your listings. A general understanding of where your listings go online is important and you can learn more by reading Where do my Listings go?
Listing Syndication or Broker Syndication is the term that applies to the ways that your own brokerage sends listings online. Zillow is a Broker syndicated website, which means that SWMLS listings only go to Zillow if your broker has opted in. To learn more about syndication, we recommend SWMLS Guide to Listing Syndication
If you have a good understanding of Broker Syndication and Where listings go online then feel free to skip this section.
FLEX Listing Settings and ListHub
Now that your "Homework" is done let's talk about the Flex settings and how to check if your office has ListHub.
Image of Broker Distribution section on a Flex Listing Input form. Below is the default setting for all SWMLS listings and ensures the listing will go to all available syndication and IDX websites that SWMLS sends the data to.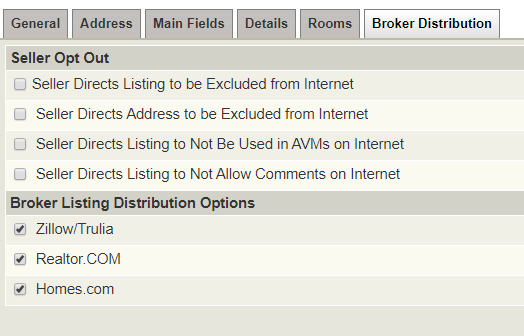 What happens if you change these options? What do they mean?
Seller Opt Out
Listing to be Excluded from the Internet: When the seller does not want the MLS listing to go online anywhere. Checking this box will contain the listing within SWMLS and only viewable by SWMLS REALTORS® and their clients who have auto-search portals.
Address to be Excluded from the Internet: When the seller wishes to publish the listing online but hide the street address. Keep in mind that hiding just the address is not very effective since the UPC code or Map Pin Location can be used to easily identify the location of the property online.
Listing to Not Be used in AVMS on Internet: Check this when a seller wishes to not have the listing used in an Automated Valuation Model on a (VOW) Virtual Office Website. A VOW website is a website owned and operated by a SWMLS Broker that has a private home search that only their clients can see. If this box is checked the listing will not display an Automated Valuation Price and only applies to the 6 Virtual Office Websites that are approved by SWMLS. Checking this box does not stop the Zestimate from showing up on the property on Zillow.
Listing to Not Allow Comments on Internet: This is checked if the seller wishes to disable comments when the listing appears on a (VOW) Virtual Office Website. Just like the previous AVM option, this checkbox would only apply to the 6 Virtual Office Websites operated by SWMLS brokers. Checking this box will not stop comments from being made on the listing on public-facing websites like realtor.com, Zillow.com or even Facebook real estate pages.
Broker Listing Distribution Options
Zillow/Trulia, Realtor.com, Homes.com: When these are checked, as soon as the listing goes Active in the MLS it will automatically send the listings to these sites. If the seller wishes to uncheck these boxes, then only the off-market version of that address will appear on Homes.com, Realtor.com, and Zillow Group websites.
ListHub: ListHub is a Syndication platform where your brokerage can control where listings go online. The QB at your office has to create a ListHub office account in order to enable your listings to be sent to the ListHub Publishing Channels. A listing agent for a For Sale listing just needs to check with their QB to see if they use ListHub. Another way to verify if you use ListHub is to contact the SWMLS Help Desk at mls@gaar.com. We have a quick way of checking to see if your listings or office is part of ListHub.
The image below shows what the Publisher screen looks like in ListHub. This is where your QB would select up to 82 different Syndication channels they would like to send their listings to.
Have more questions? More confused now than before you clicked on this article?
Terms like "Syndication", "Automated Valuation Model", "IDX", "VOW", and "Virtual Office Websites" may be a bit overwhelming to understand. If you have additional questions or would like to schedule a phone call or meeting to better understand Broker Distribution settings we would be glad to work with you. Please contact us at mls@gaar.com or call 843-8833 and let us know what you need.