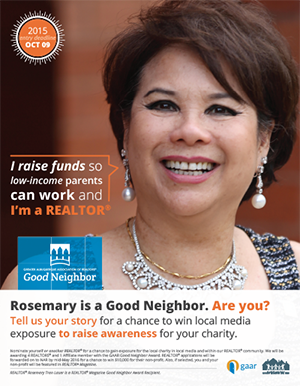 Created by NAR, the Good Neighbor Award program recognizes members that have dedicated themselves to charities that improve the livability of our local community – including housing projects, crime prevention, youth mentoring, homelessness and more. This year, GAAR has created its own Good Neighbor Award program that will tie into NAR's.
This year, GAAR will be presenting the award to four REALTOR® recipients and one Affiliate recipient.
Our chosen REALTOR® Good Neighbors and their charity of choice will receive recognition:
Through our website;
In our e-newsletter – the Weekly Passport;
On GAAR TV (the TV system in the REALTOR® Building) and;
To greater Albuquerque consumers through radio, print and TV advertising.
They will also be invited, along with their charity, to appear on a New Mexico morning show. As role models for other REALTORS®, they will help represent us to the community. All REALTOR® nominee applications will be forwarded to NAR by mid-May to be considered for their award, which includes a grant for $10,000 to their charity.
Our Affiliate Good Neighbor will receive all the same internal recognition, but less consumer advertising and participation in NAR's award program.
We will begin accepting applications on July 27th.
We strongly encourage REALTORS® and Affiliates to nominate another REALTOR® or Affiliate they know that has done a lot of charity work, since those volunteers can be reluctant to nominate themselves.
To nominate yourself or someone you know, click here for more details.
Note: if you are nominating someone else, take your best guess-timate on the responses. We will work with the charity and nominee to gather the rest.
Please help us get the word out by downloading and posting our flyers in your office.