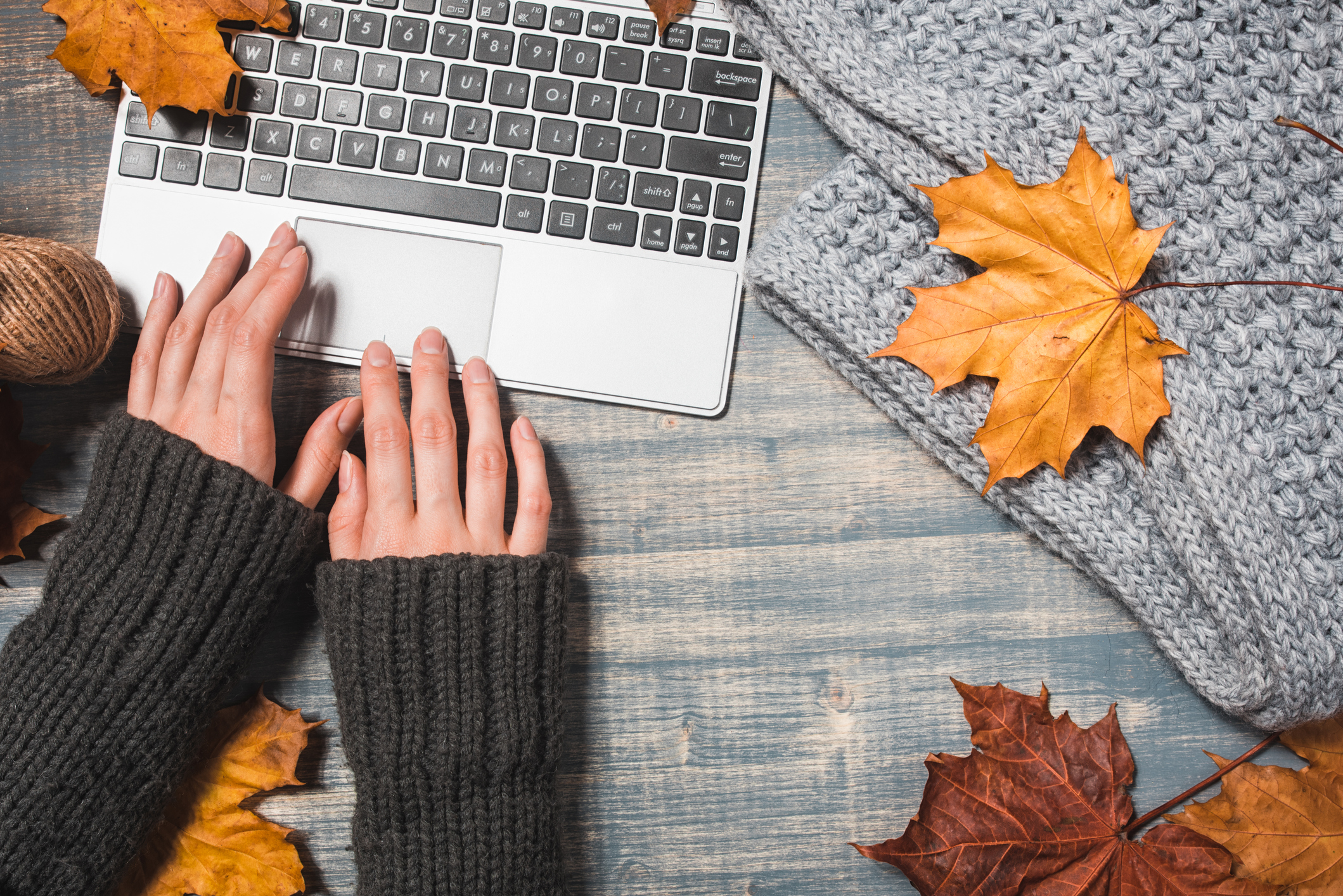 SWMLS has had a busy year of improving primary products like Flexmls and ShowingTime.vImportant changes to the SWMLS rules and products are highlighted in the Monthly MLS videos, weekly GAAR Passport series, and in the FLEX Broadcast notice. This is a Fall 2019 recap of the significant changes this year that will quickly catch you up on What's New at SWMLS.
3 New PID Boundaries
In August 2019, SWMLS updated the PID website, www.gaar.com/pids, to include 3 new Public Improvement Districts, with 2 new PIDS being added in Rio Rancho and 1 new one in Albuquerque.
There is a special Map Overlay in FLEX that shows the 3 new PIDs. This Overlay map is called "PID Overlay (2019 Temporary)." When this Overlay is combined with the main Overlay called "Public Improvement Districts" it allows you to see ALL of the available PID boundaries in Rio Rancho and Albuquerque on one screen. We have created a short video showing how to view all of the PID Boundaries in FLEX right now, a helpful way to determine if your next listing is in a PID.
Click here to learn more about the 3 new PIDs.
Paradise Hills Special Zoning District Overlay
A new MLS Overlay shape was added back in March 2019. The new shape is called Paradise Hills Special Zoning and identifies the boundaries of this Special Zoning District. Knowing if a property for sale is within this district is helpful for REALTORS® and consumers buying, selling, or leasing property here.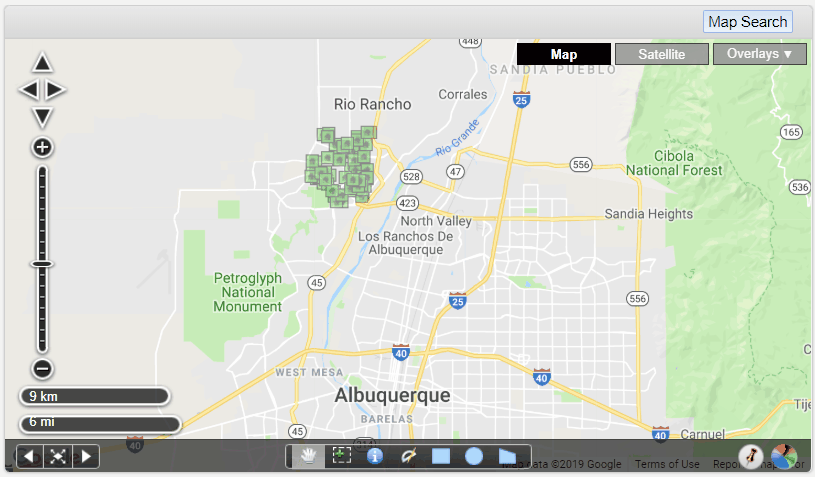 Adjustable Columns in List View
In August 2019, Flexmls made it easier to adjust your view of search results in Flexmls Web, both on-screen and on the printed page. Starting August 15, you can now click and drag to resize columns to your heart's content.
Column widths in search results were previously not adjustable. With this change, you can modify the width of any column in the one-line and normal views on the List tab of search results. Click on a column separator in the header and drag the double arrow to adjust the width.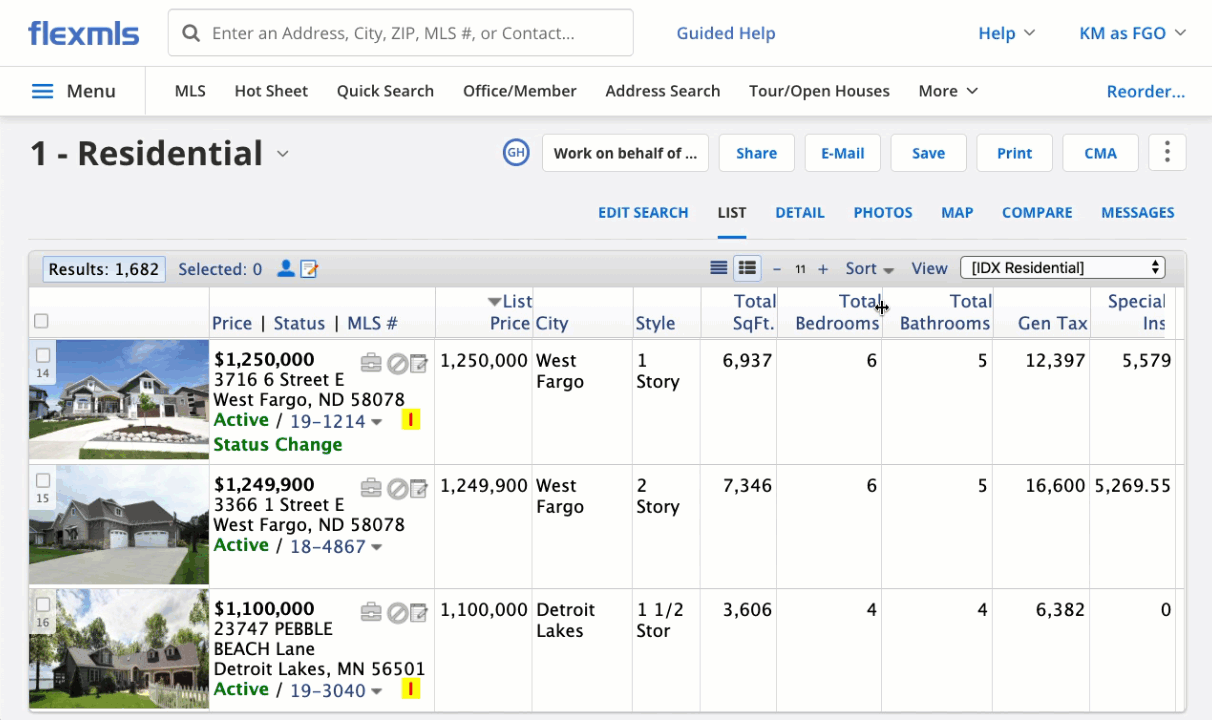 Remine is replacing CRS Tax
Back in July 2019, SWMLS announced that the CRS Tax program would be ending in October and replaced with Remine. Remine has been live in the MLS since July 2019 for all SWMLS Subscribers and will be expanding in October 2019 to enable Remine Pro Features for Subscribers.
Remine is a powerful lead generation platform and map search tool for locating tax and parcel data for MLS listings. Keep a pulse on properties, neighborhoods, and people including changes in sell score, MLS activity, occupancy, deeds, and more.
Remine offers weekly webinars online and SWMLS can also arrange for Remine training at your brokerage. Contact the SWMLS Help Desk today to book a Remine training at your office. Click here to access the Remine Webinar registration page.
Realtor.com Professional Search
The SWMLS search tool called FIND – Property Search got an overhaul in early September 2019.
The new Realtor.com Professional search is now available through the FLEX Menu. It extends your search capability beyond the SWMLS market and includes new overlays for Schools, Transit, and Lifestyle. No app to download, no software to install, so you can try it today!
How to access Find 2.0:
Step 1: Login into your FlexMLS account and click on Menu (top left)
Step 2: Type Find and select Find-Property Search
Step 3: A new browser window will open to your Realtor.com Professional Dashboard
Homesnap Professional Mobile App
In July 2019, SWMLS Subscribers were treated to a new MLS benefit called Homesnap Pro. Homesnap Pro combines agent-only MLS data with an award-winning mobile app, arming real estate professionals with the power of their MLS while they are in the field. Make sure to download the app from Apple iTunes or Google Playstore to start Homesnapping today!
Homesnap Pro Features:
Real-time access to agent-only MLS information.
Information about any home (whether or not for sale), value, last sale date, price, listing history, "birds' eye" lot boundaries, similar active listings, recent sales comps, and local schools.
One-tap messaging with clients and other agents.
Customized email marketing to clients and contacts.
Instant Comparative Market Analysis (CMA) generation right from your smartphone.
Complete details on every agent in the area, including a portfolio of recent sales and an analysis of sales history (price reduction, days on market).